2014-2015 Intern: Sibia Sarangan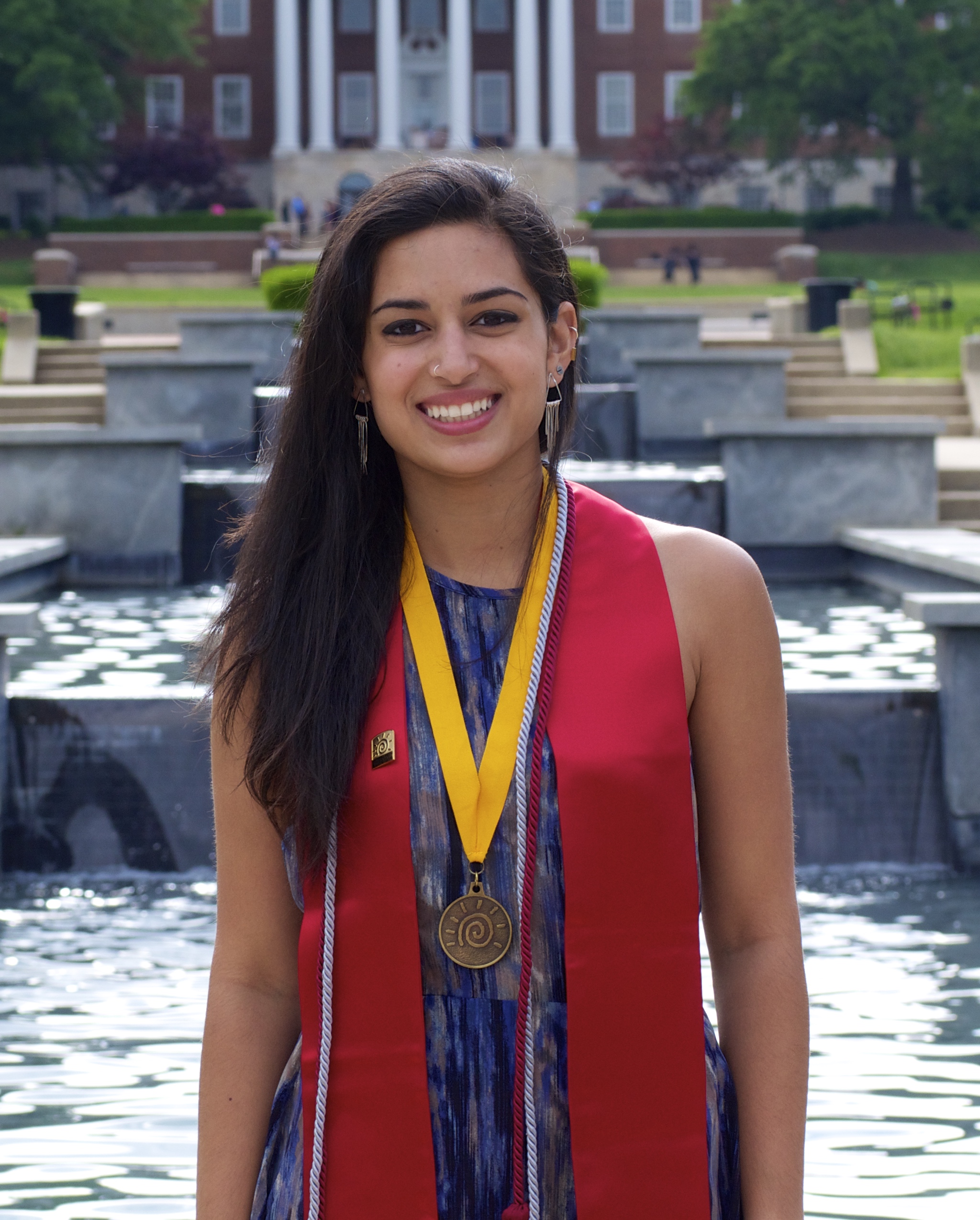 Sibia Sarangan, '15
Collections Management and Research intern
This past year I have had the unique and wonderful opportunity to work at The Art Gallery as a Collections Management and Research intern. I visited the Herman Maril Teaching and Research Gallery within the larger Art Gallery for the first time in October as a student in the art history class Japanese Art in the 20th Century: Colonialism, War, and Occupation. I was exposed to and able to handle 19th and 20th-century Japanese woodblock prints. This preliminary introduction to the G. Lewis Schmidt and Kyoko Edayoshi Schmidt collection of Japanese prints and scrolls led to my work at The Art Gallery.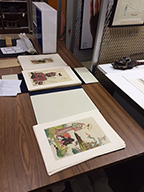 Towards the beginning of my internship I primarily worked with this collection, contributing to the cataloguing of the recently donated objects. I worked with Madeline Gent, the Permanent Collection Registrar and Graduate Assistant, on a variety of projects and tasks. Doing so taught me valuable skills that are essential for museum work, including proper methods for archiving and researching works. Most importantly, I learned how to handle, move, and store different types of art.
As the spring semester began, I became more involved with the Gallery's main exhibitions, including Reshuffling the Past and Streams of Being. In addition to working on the gallery's website, I was able to contribute to checklists, labels, and catalogues for these exhibitions. One of my art history classes was also directly involved in Streams of Being, and it was truly eye opening to work on an exhibition from different viewpoints.
I became completely immersed in the Schmidt collection in April and May as I began a new project: my first exhibition. To end my internship, I was given the opportunity to come up with my own project utilizing this collection. As I am extremely interested in curatorial work, I chose to create an exhibition of selected Japanese woodblock prints. The first step was to come up with an intriguing theme or topic, around which I could conduct research and curate an exhibition using prints from the permanent collection. I decided to focus on the depiction and significance of fashion within the collection, thus naming the exhibition Fashion as a Cultural Lens: Images of Costume and Beauty in the G. Lewis Schmidt and Kyoko Edayoshi Schmidt Art Collection.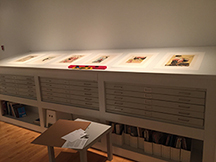 After researching different aspects of fashion in Edo period Japan and the meaning of various patterns, symbols, and styles, it was time to select prints. I wanted to choose works that were visually appealing, unique, and would intrigue the viewer. This was surprisingly difficult, as the collection features so many beautifully colored and detailed pieces. I received help and insight from Hallie Schmidt, the Education and Outreach Intern, who contributed an educational guide to some of the prints. I actually modified my selection during the installation of the exhibition, as I was constantly finding new details that I had not previously noticed.
In addition to Madeline and Hallie, Taras Matla, the Arts Administration Manager, was extremely helpful in putting together my exhibition and making sure it met our highest standards and expectations. Taras was essential to the actual installation process, including the framing and hanging of the prints. Designing the layout of the gallery space and seeing the pieces transform from loose prints to neatly framed and displayed works was rewarding. Direct interaction with artwork is truly valuable and critical for an arts education, and I hope that faculty and students of all backgrounds will take advantage of the Herman Maril gallery as a tool for teaching and learning.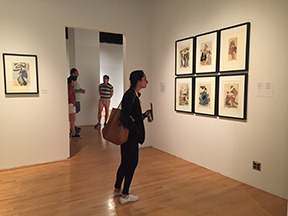 I believe this exhibition allows the collection to get the attention it deserves, and I can now say that my first curatorial experience was a success. It was the perfect culmination of my time at The Art Gallery as well as my career as an art history student. In conjunction with my education, my overall internship at The Art Gallery has introduced me to museum work and broadened my perspectives of the art world. I know I will carry the skills and lessons I learned from this experience with me in the future as I pursue career and education opportunities.