'The Bomb': A Panel Discussion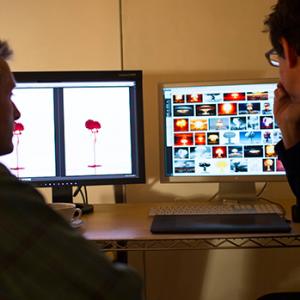 Thursday, October 8, 2015 -

13:00

to

14:30
Join experts from the University of Maryland in the field of art, Japanese culture, military history, sociology, and more as they discuss the subjects and themes of the current exhibition, Questioning the Bomb: History and Non-Proliferation. Surrounded by posters created by artists from around the world, including such countries as Ukraine, Iran, South Korea, Venezuela, and Japan, the panel will take questions from one another and the audience in a lively discussion of nuclear weapons and their relationship to global politics, history, and visual culture.
This event is open and free to the public.
Panel Discussants:
Jim Thorpe, Exhibition Curator, Department of Art
James Glass, Department of Government and Politics
Michele Mason, Department of East Asian Languages & Cultures
John Pease, Department of Sociology
Photo: Artist Harry Pearce works on his piece for the exhibition titled It's all our blood. Credit: Artist.