Janet Fahnbulleh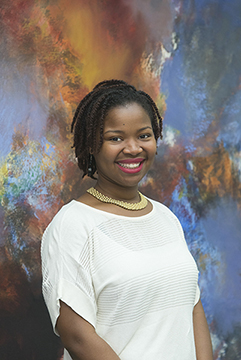 Janet Fahnbulleh
Collections Management and Research Assistant
I am entering my fifth year as a Studio Art major at the University of Maryland. Upon joining the University of Maryland Art Gallery staff in spring 2014, I was transitioning from Civil Engineering to Art Education. The gallery provided my first opportunities in the art world and expanded my view on what an art degree can offer. With about six years of engineering, science, and a teaching background, I was totally unfamiliar with the world of art. However, I wanted to explore art as a teacher. The staff here was so open and resourceful to me throughout my journey. As I enter my last year as a student at the University, I can say that I am confident in the skills that I have acquired, the connections I have made, and the wealth of information I have received while working on staff at the gallery.
In the spring of 2014, I worked as a Gallery Attendant under the supervision of Assistant Director, Taras Matla, and John Shipman, former Gallery Director. I learned gallery protocol in regards to supervising valued artworks during normal gallery hours, closing down the gallery, safety protocol, and helping visitors to engage with the art. In the summer of 2014, I was granted the opportunity to assist John and Taras in exhibition design. My job, along with two other gallery attendants, was to patch up holes in the walls created by art works and repaint the gallery. We also did minor collection managing and regulated art pick-up and drop off. Finally, I served as a Marketing and Social Media Intern in which I went on scavenger hunts around the city photographing famous art works that were blown up on billboards and tweeted about the works surrounding the art gallery.
Summer 2015, has been the most rewarding and hands-on experience at the gallery. Taras and Madeline, the Collections Registrar, invited me to serve in an internship position as Collections Management Assistant. I undertook tasks alongside Madeline such as organizing the gallery's permanent collection in the vault room, editing and making labels for artworks, hanging labels, archiving documents from former exhibitions, and designing the Questioning the Bomb: History and Proliferation exhibition advertisement poster. The projects I handled this summer seemed intimidating at first but, as I did them with Madeline I became comfortable and open to helping with more projects. Coming to work every day was fun and I learned something valuable each day. I have valued all of my experience at the gallery especially serving and learning under my favorite staff yet.